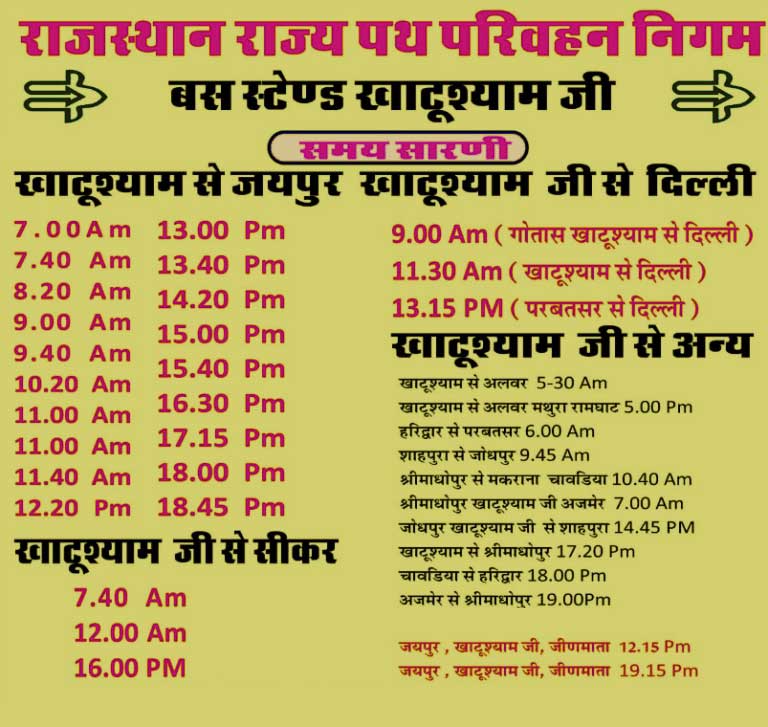 Via Road
Best route is via Sawai Jai Singh Hwy to Jaipur Roadd/Sikar Road to Agra – Bikaner Road(also known as NH11), which will take you to MDR46, Khatu bus stand. Here is the google map from Jaipur to Khatu shyam mandir.
There are various Government as well as private buses available from Jaipur Bus Stand to Khatu bus stand. From khatu bus stand you can take auto to Mandir. However no buses with reserved seats are available.
Via Train
Nearest railway station from Khatu Shyam Ji temple is Ringas Junction. Only passenger trains ply from Jaipur to Ringas railway station. There are about 8 trains from Jaipur, having scheduled departure from jaipur railyway station at 4.40 AM, 6.05 AM, 7.45 AM, 10.10 AM, 13.30, 16.55, 18.50 & 20.15. Train journey takes about an hour and a half and the trains are mostly on time.
Ringas to Khatu Shyam ji